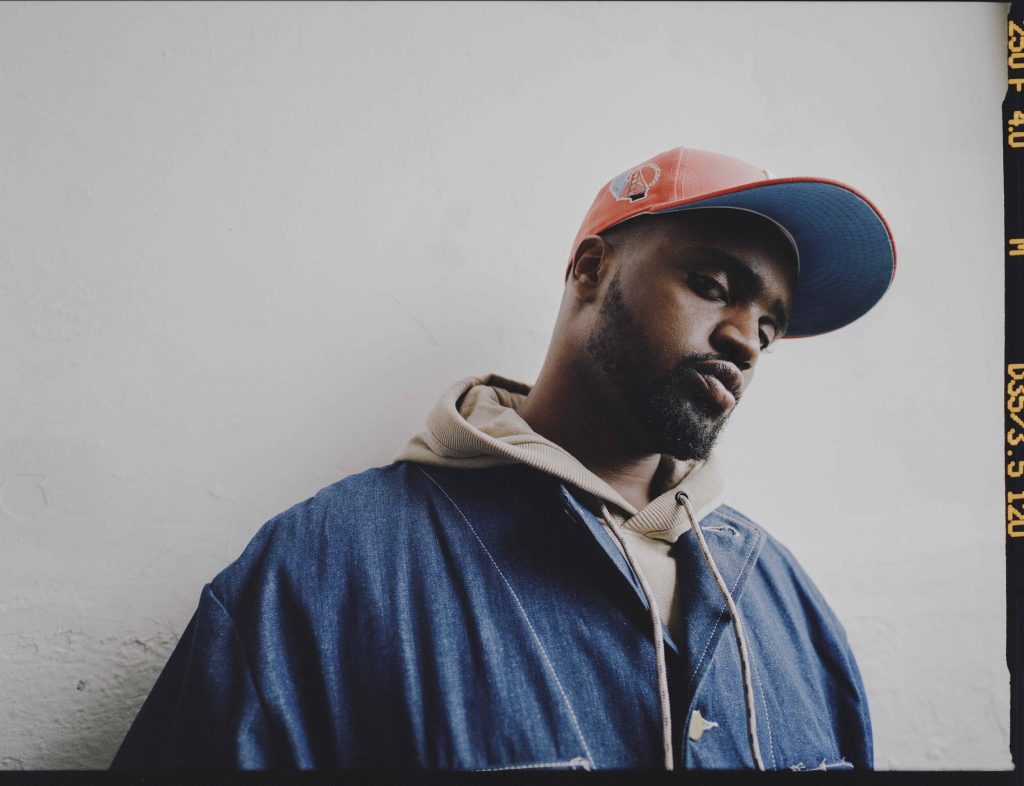 #1 Emanuel
Emanuel is an exceptional artist. With a co-sign from Idris Elba, two beautiful EPs, and a full-length album, Alt Therapy, he is the unparalleled leader of our list.
Emanuel opened up about his album: "Alt Therapy. It represents so many things. It is healing. Healing for those things in the past that would have us in bondage, in depression, in sadness. Those voices that told us we weren't important. It's gratification for the yearning in our hearts to do something great for the people of this world. These songs are stories – stories from me, about us… My music is like wine that renews herself daily and is true to her flavour always."
He grew up in a musical family that encouraged him to find his own path to healing through music. "With his distinct, stripped-down version of R&B, paired with the most introspective lyrics inspired by real-life experiences, the rising star continues to defy boundaries in both music and his personal life… which all comes full-circle as he signs with the famed Motown Records," says Shirley Ju at Flaunt.
#2 Jake Oulton
This Canadian hip hop artist is out on a path to serious greatness with a recent debut EP 11:11. After years of hard work and freestyling, Jake Oulton is sharing his heartfelt, honest music with the world and who wouldn't fall in love with art that flows from the depths of one's soul? After the release of his first official single "Life On The Highway", a powerful song that makes the audience stop and think, Jake Oulton released "Rodeo" that completely varied in tone as it was equally beautiful but romantic and joyous. Through his music videos, the artist shows more of his lifestyle, his personality and fans are extremely impatient to see more.
Jake's love for music enables him to write relatable and authentic songs that aren't bound to genre, race, culture or background. Blending country, rock, and hip hop into a smooth cocktail of euphoric music, Jake is ready to share his talent with the world. Jake's music is instantly recognizable, fun and engaging, at the same time it doesn't lack in sophistication which allows him to reach an even larger audience. "My music feeds my soul. It's my truth – good and bad," Jake says about his art.
#3 DijahSB
Toronto-based rappers DijahSB makes navigating synth loops, booming bass claps, and smoothed out production look easy. The rapper effortlessly glides across these soundscapes with lyrics that are as earnest and personal as they are agile and quick-witted. Inspirational without being preachy, their music is a raw look into the mind of a Black non-binary artist rapping their way through hope, heartbreak, and breakthroughs.
Their sound, a small light pushing through dark cracks as the self-aware inner workings of an artist in a constant state of growth. They count KidCudi, PushaT, and LupeFiasco among their influencers, their music an ode to and embodiment of each of them in various ways.
With tens of thousands of listeners across streaming platforms and features on popular Spotify playlists including Northern Bars, Fresh Finds and Fresh Finds Hip Hop, Dijah's music is testament unto itself. "I manifest and start to dream," they rap on "I Wonder." "That's hard to deny." DijahSB's popular songs are "Control", "New Harrison", and "EXCEPTIONAL", songs with their ever earnest feel that soothes the soul.
#4 Savannah Ré
Singer-songwriter Savannah Ré from Toronto has become one of R&B's brightest new voices by making music with an unyielding intention: to craft songs that forfeit polished stories for authentic ones. As a highly skilled songwriter, she's developed an acumen for an arrestingly honest style of self-reflection that's the mark of music's elite. Delivered with honey-hued vocals, and sung over patient, golden melodies with heady, circular beats, her music is mesmerizing in its celestial fluidity as it defers space for her voice to take centre stage.
It's this carefully-refined formula for songwriting that has brought Savannah Ré under the mentorship of Grammy Award-winning producer Boi-1da and has made her the go-to collaborator for R&B's upper echelon where she's written with artists like Babyface, Normani and Wondagurl. In 2019, her single "Best Is Yet To Come" was selected as one of the 100 Best Songs of the Year by Apple Music. In 2020 she dropped a stunning album Opia with millions of streams followed by a single called "24hrs".
#5 Crack Cloud
Vancouver-based multimedia collective Crack Cloud utilize the combined talents of various artists, filmmakers, musicians, and designers to deliver striking visuals and a core band that straddles art-rock and post-punk.
The group was originally formed by vocalist and drummer Zach Choy and keyboardist Mohammed Ali Sharar, who wanted an outlet to distract them from their spiraling drug habits. They quickly found other individuals with drug-related issues and some who were mental health workers, all of them wanting a project that would cultivate self-betterment and collectivism; among the second wave of members were guitarist Jon Varley and multi-instrumentalist Daniel Robertson. Although the lineup was nebulous by nature, they quickly put together two EPs, Crack Cloud and Anchoring Point, which they collated into their eponymous debut album in 2018. After comprising over 20 members — with seven of those dedicated to touring — they began to expand on their sound and production technique, gearing up for the release of their second full-length, 2020's Pain Olympics.
#6 Prime Boys
Toronto's Prime Boys are no strangers to putting on for their city. Together, the trio has made an impact on the hip hop scene, both locally and globally, by consistently releasing projects that speak directly to the urban culture that they are a part of.
In the 3 years since they began releasing music to the public, the Prime Boys have made waves in both the local and global music scenes. As a collective, Jimmy Prime, Donnie, and Jay Whiss have been gaining momentum with individual projects that celebrate the creativity being fostered in Toronto. With millions of views on their music videos and millions of streams on their music collectively , it doesn't look like the Prime Boys will be slowing down anytime soon. A string of live performances and high-profile collaborations secured for the coming year are sure to propel the Prime Boys to the all star status that they've been working hard to achieve.
Their debut album Koba World is home to twelve stunning songs that incorporate the style and individualities of each member.
#7 K-RIZ
K-Riz is part of a new generation of melodic MCs who can rap circles around their opponents and sing their verses with equal aplomb. His brand of hip-hop is marked by sensitive, self-aware lyricism, '90s-inspired R&B, and futuristic beats.
Listing the titans of R&B-inspired pop and jazz-oriented rap as his influences, from Stevie Wonder to Nas and Michael Jackson to J Dilla, the Toronto-born, Edmonton-based artist absorbs and spits out the specters of other eras while remaining spiritually in the present. With his sophomore album, Peace & Love, he recounts coming out on the other side of pain and heartbreak. Not a breakup album per se, but a record that captures his personal breakthrough as a result of the fallout.
K-Riz was recently named as a Black Canadian artist you need to know by Angeline Tetteh-Wayoe of CBC's The Block, and listed among the Canadian artists you need to hear by Exclaim.His 2021 album, Peace & Love, is a collection of beautiful, blues, rap and r&b-fused songs that just give the listener a great mood.