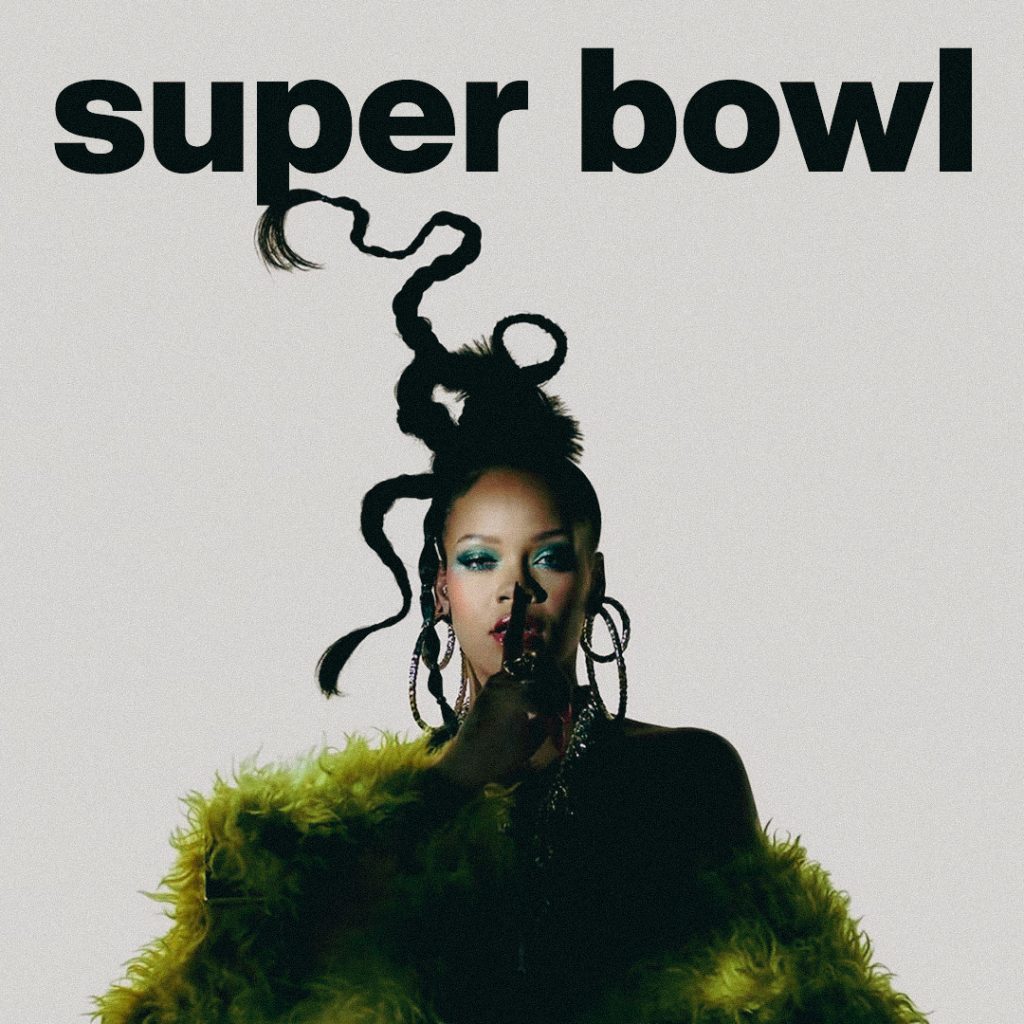 As the clock struck midnight on the West Coast, the 2023 Super Bowl halftime performer, Rihanna, dropped the first trailer for her performance, which is also the first ever to be sponsored by Apple Music. The trailer opens with a spotlight on a black background as a collage of angry or impatient media voices say, "It's been 2,190 days… It's been over six years… Rihanna is who everybody is waiting for… The last album we got from Rihanna was "Anti" in 2016″ overlapping until they blur together while the video cuts between Rihanna walking toward the camera and posing, wearing a fluffy green jacket with her hair in an elaborate braid. Finally, as the voices mesh into nonsense, the sound stops, the camera cuts to black, and we just see Rihanna putting a "Shh" finger to her lips, followed by a brief snippet of her song "Needed Me" from that last album, "Anti."
This trailer has sparked curiosity among fans and media as to whether Rihanna will be releasing new music soon. At her Savage x Fenty lingerie show in November, when asked about a new album, she answered by saying, "That's not true. Super Bowl is one thing. New music is another thing. Do you hear that, fans?" she laughed. "The second that I announced this, I said, "Oh, my God, they're going to think my album is coming. I need to get to work," she said. This statement seems to indicate that the Super Bowl performance and new music are not related.
However, the trailer has reignited the question of new music from Rihanna. Fans will have to wait and see what the Super Bowl halftime performance holds in store for them. The game, which typically draws one of the biggest single TV audiences of the year, is scheduled to be played at the State Farm Stadium in Glendale, Arizona on February 12. It will be interesting to see what Rihanna has planned for her performance and whether it will include any new music. The Super Bowl halftime show is a highly-anticipated event and Rihanna's performance, being the first ever to be sponsored by Apple Music, is sure to be a memorable one.