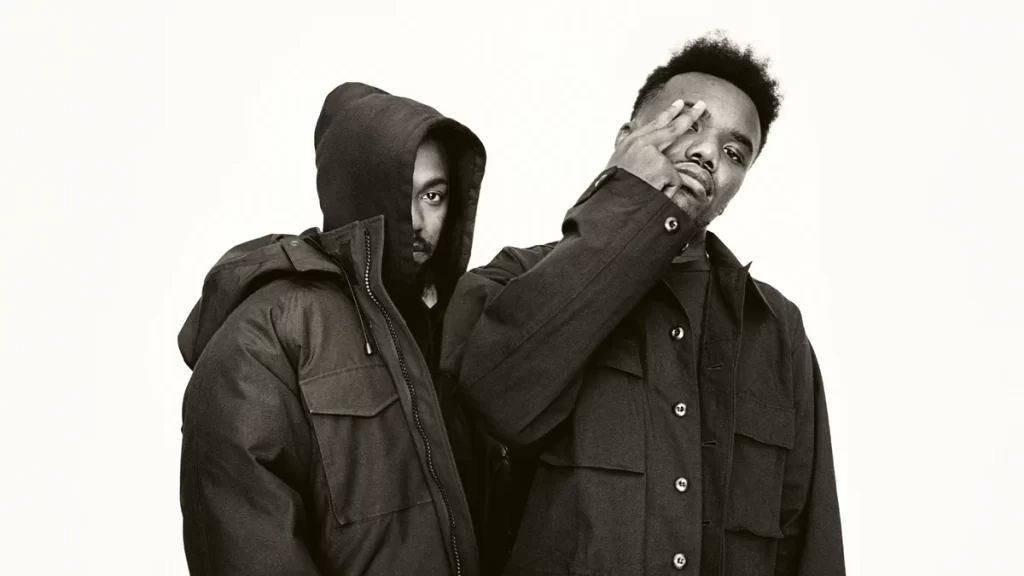 In a much-anticipated move, Baby Keem and Kendrick Lamar have joined forces once again for their latest collaboration, "The Hillbillies." Produced by Evil Giane, this dynamic track is accompanied by a visually captivating music video directed by Neal Farmer. Notably, the video features a cameo by Tyler, the Creator, who proudly displays a 'Camp Flog Gnaw 2023' button on his jacket, confirming the return of the highly awaited carnival.
"The Hillbillies" skillfully samples Bon Iver's "PDLIF" and showcases the undeniable chemistry between cousins Lamar and Keem. Their previous collaborations include hits like "N95," "Die Hard," "Range Brothers," "Savior," "Nile," and the Grammy award-winning "Family Ties." Additionally, keen-eared listeners will notice references to Drake's "Sticky" from his 2022 album "Honestly, Nevermind."
Filmed entirely on VHS, the music video takes viewers on a journey through various locations, including London, a mall, city streets, a private jet, and the iconic backdrop of Dodger Stadium. Tyler, the Creator steals the spotlight with his charismatic presence, engaging in playful antics alongside Lamar and Keem.
While the official lineup for Camp Flog Gnaw has yet to be announced, fans are hopeful that Tyler's substantial cameo suggests performances by both Lamar and Keem at the 2023 festival. The Los Angeles-based event has been on hiatus since 2020, with its last iteration in 2019 featuring memorable acts such as Solange, FKA twigs, Juice WRLD, Brockhampton, and a surprise headlining set by Drake.
Excitement builds as Keem and Lamar gear up for their upcoming performance at the Bonnaroo Music and Arts Festival in Tennessee from June 15 to 18. Prior to "The Hillbillies," Lamar made waves with his remix of Beyoncé's "America Has A Problem," while Keem, who supported Lamar on the "Big Steppers" tour in 2022 alongside Tanna Leone, released his debut album "The Melodic Blue" in September 2021.
FAQs (Frequently Asked Questions)
Q: What is the latest collaboration between Baby Keem and Kendrick Lamar?
A: The latest collaboration is titled "The Hillbillies."
Q: Who produced "The Hillbillies"?
A: The track was produced by Evilgiane.
Q: Is there a music video for "The Hillbillies"?
A: Yes, the song is accompanied by a visually stunning music video, which features a guest appearance by Tyler, the Creator and also serves as the announcement for the return of Camp Flog Gnaw in 2023.
Q: Where can I stream "The Hillbillies"?
A: You can stream "The Hillbillies" on Spotify and Apple Music.
Kendrick Lamar is an acclaimed rapper, songwriter, and producer hailing from Compton, California. Known for his introspective and thought-provoking lyrics, Lamar has established himself as one of the most influential figures in contemporary hip-hop. With critically acclaimed albums like "Good Kid, M.A.A.D City," "To Pimp a Butterfly," and "DAMN.," he has garnered numerous accolades and a dedicated fanbase worldwide.
Baby Keem, born Hykeem Jamaal Carter Jr., is a rising star in the rap scene. Hailing from Las Vegas, Nevada, Keem burst onto the scene with his unique style, delivering energetic and melodic verses. Known for his collaborations with Kendrick Lamar, including hits like "Family Ties" and "Range Brothers," he has quickly gained recognition for his innovative sound and captivating performances. With his debut album "The Melodic Blue," Baby Keem has solidified his position as a promising talent to watch in the industry.