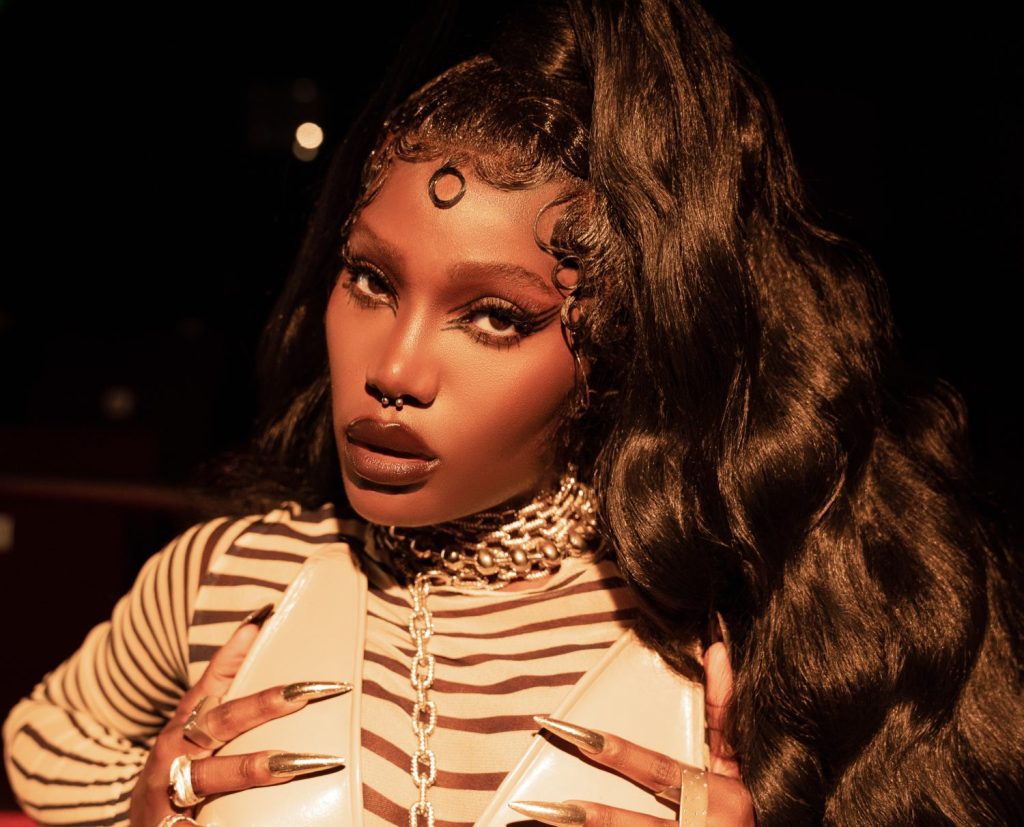 Doechii is equally dedicated to her loyal fanbase. The talented "Persuasive" songstress has been consistently delivering unforgettable shows at various music festivals across the country in recent months. Notably, her two electrifying performances at Coachella showcased her exceptional talent and left a lasting impression. When Beyoncé collaborated with Kendrick Lamar on the remix of "AMERICA HAS A PROBLEM" during her RENAISSANCE World Tour, Doechii's devoted fans passionately advocated for her inclusion in the song.
While Doechii awaits a call from Queen B (if it ever happens), she took matters into her own hands and dropped a captivating freestyle on her YouTube account. With clever and comedic rhymes, Doechii effortlessly rides the infectious beat, exclaiming, "Too much, ho, don't do too much / Pullin' up in a Magic City in an uber / Pockets fatter than a motherfuckin' fupa." She boldly asserts her perspective, stating, "I see a lotta b*tches, I don't see a lotta stars / I hear a lot of rappers, I don't hear a lot of bars," and dismisses the superficiality of the industry, proclaiming, "I see a lot of plastic, I don't see a lot of barbz / I see a lot of digits, I don't care about the charge." Fans have already expressed their adoration for this highly anticipated release.
Adding to her recent achievements, Doechii shines on "Phenomenal," a standout track from Janelle Monae's acclaimed album, "The Age of Pleasure." Her undeniable talent and captivating presence have solidified her position as a rising star in the music industry.
FAQs (Frequently Asked Questions)
Q: What notable performances has Doechii delivered recently?
A: Doechii has graced festival stages across the country, including two standout shows at Coachella, where she showcased her incredible talent and left a lasting impression on audiences.
Q: Has Doechii collaborated with any renowned artists?
A: While she awaits a collaboration with Beyoncé, Doechii's exceptional skills caught the attention of Janelle Monae, leading to her inclusion on the track "Phenomenal" from Monae's acclaimed album, The Age of Pleasure.
Q: How would you describe Doechii's musical style?
A: Doechii's music is characterized by clever wordplay, comedic elements, and a unique blend of humor and introspection. Her distinct voice adds depth and emotion to her songs, making her a captivating artist with a bright future ahead.
Doechii, the rising star from Florida, is making waves with her unique sound and magnetic performances. As a talented singer and songwriter, she has quickly garnered attention and a dedicated fanbase. Doechii's clever wordplay and comedic flair captivate listeners, while her distinct voice adds depth and emotion to her music. With notable appearances at Coachella and a rapidly growing discography, she continues to prove herself as an artist to watch. With her innate ability to blend humor and introspection, Doechii is poised to make a lasting impact on the music industry.