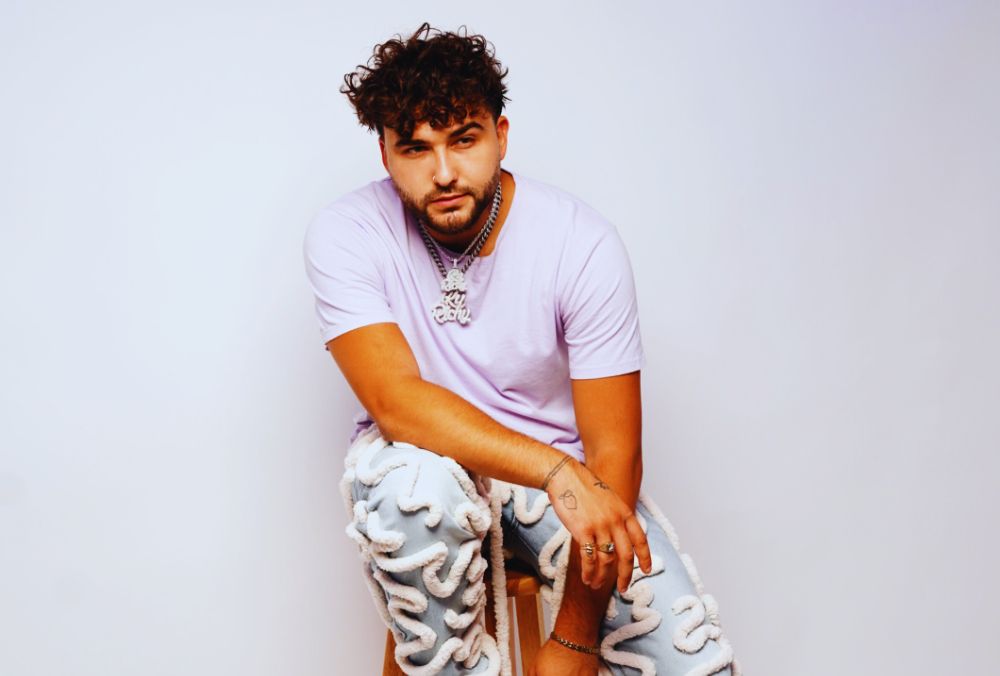 Ky Richy is one of the realest rappers out there who we've had the pleasure to interview. Ky Richy has throughout the years created an extensive portfolio of singles and albums with hundreds of thousands of streams. He has previously released three noteworthy albums: Pink Cloud in 2018, Switchblades and Roses in 2019, and Summer Nights After Quarantine in 2020. He then took a short break in 2021 becoming a father, devoting himself to his family. In 2022, his new album No Sad Faces dropped with exceptional music videos like "Crypto," "Slumped," and "Change". If you haven't yet, discover this awesome artist with us!
Tell us a bit about your latest release No Sad Faces. What is the inspiration and the message behind this album?
No Sad Faces, these 3 words will forever be my first tattoo. No Sad Faces is important to me because it is dedicated to my cousin Nicholas who sadly passed away, and this was a term he used frequently while fighting his battle.
Our family was sad and grieving but he would simply reply, 'No Sad Faces'. I think that can reflect on the type of person he was and everyone going through tough times can relate, that no matter how bad things can get, let's keep a smile on our faces and cherish the time we do have. It felt fitting for my album, because I had been struggling with addictions and low points in my life. Although I don't touch on the topic much in the album, I do talk about overcoming my addictions, becoming a father, and growing into the man I am today. The best version of myself.
I like to think Nick is watching over me, PROUD.
What would you say is the distinct sound of this new album and how does it reflect your views and ideology?
The distinct sound of this album has a west coast R&B feel, indie hip hop vibes, and a pop rock sound when performed live… yet still very true to who I am as an artist. My albums tend to tell a story with a rollercoaster of emotions, so the sound of each song can vary based on what I was feeling in that exact moment. I sing, I rap, I even play a few guitar solos on the project.
Whether with my voice or an instrument, there are so many different ways for me to express myself and you will definitely hear that on this album—or any of my albums for that matter. The ideology is a young musician maturing into a man, a father,
a master of the craft. While some songs remain lighthearted, others go more deep down into the mind of Ky Richy.
Which song off the album is the most personal or meaningful to you and why?
I would say 'Slumped' is one of the more meaningful songs on the album and a powerful way to set the tone for the project as I decided to put it first. I show everyone the drive I have and how serious I am about pursuing my artistry. You will find lyrics like, "just give me my music, my wife, and my son", which sends the message that I don't need to hide anything about my life from my music to 'be cool' or 'fit in'. I am committed to finding a balance between my personal life and my career, and I
showcase how refreshing it can be to put these situations out there and be passionate about it. Throughout my album, songs like 'Confused', 'Home' & 'Closure' touch on those same elements such as the balance of my love life and my music / art.
If you could say it in one sentence, why did you become an artist?
Since I was born I've always been driven by creativity whether it's music, film, art, fashion, you name it… my mind is non-stop thinking of creative ideas and I feel so blessed for the talents God has provided me with, to make my ideas come to life and share with the world!
Describe your music in three words
Energetic, Empowering, Memorable
What achievements in the industry are you most proud of?
A few achievements I am most proud about include the ability to have reached so many listeners and connect to people who need hope just as I did, creating 2 of my own headlining tours, working with notable artists such as Blxst & Mod Sun, and also working with legends such as LA's very own Chuck Dizzle, whose voice you hear in the beginning of my songs.
Top 3 Collabs?
My favorite collab I've done would be with Blxst because I had been following his music since 2015. Moving to LA and getting to meet him, let alone work with him, was a dream come true. His following was about as big as mine at the time, and now watching him gain much earned recognition and become so well known is just incredible, inspiring, and goes to show that anything is possible! Chuck Dizzle is also a huge inspiration, not only because he believes in my movement, but because he is a huge staple in LA's culture of Hip Hop. He has interviewed all of the greats such as Kendrick Lamar & Nipsey Hussle.
He has also interviewed Mod Sun, who I had the pleasure of performing with and creating music with. Mod Sun's views on life are nothing short of amazing and I am truly inspired by Mod Sun & Chuck Dizzle's sobriety, which helped me clean up my act.
What's next for Ky Richy?
I've been navigating my way through music for around 10 years now and it's taken some time to iron out the creases and really fine tune who I am as an artist and the message I want to send to my listeners. I have built the foundation on my life experiences, and I put my faith and trust in God to guide me and prepare me for my moment. You can expect more albums, more visuals,
and more performances from me for years and years to come!