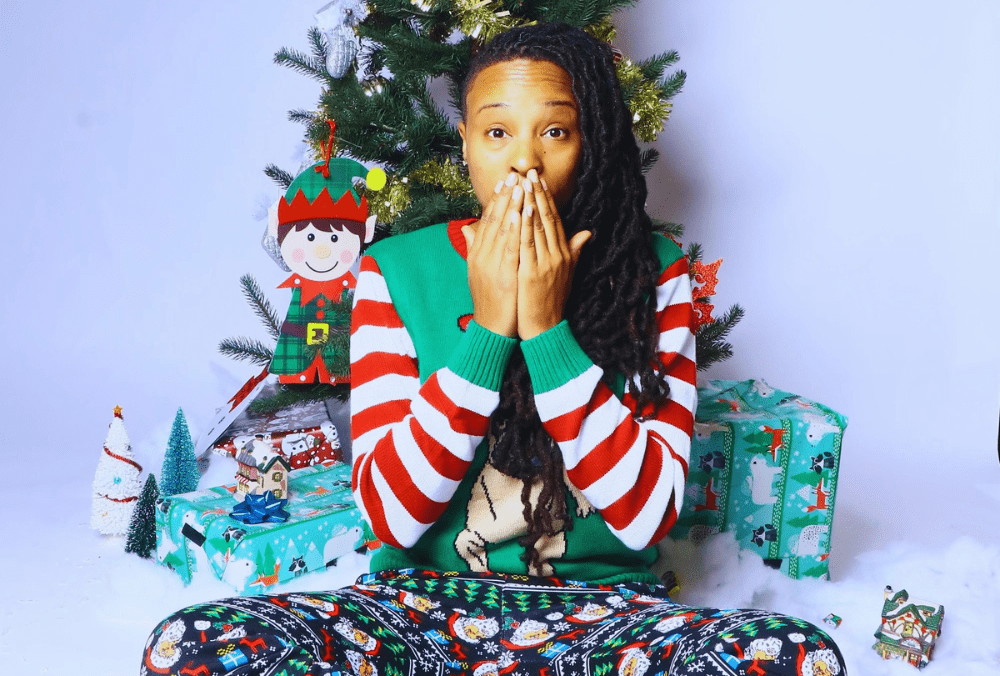 Resse P drops a holiday-perfect "Rum Chata" single and music video, filled with the spirit of festivities, friends and family, ugly Christmas sweaters, and of course, RumChata! The up-and-coming Chicago rapper brings back the positivity and the good vibes, generously sprinkled with a flavor of hip-hop that is all her own. We've had the greatest pleasure of interviewing Resse P about music, life, and more. So pull up a comfortable chair, and enjoy the read, as you sip on whatever is your version of RumChata!
"Rum Chata", your latest release, is quite the playful Christmas track! Tell us a bit about how this track came together. Who worked on the production of the music video?
Thank you so much! I was working with DJ Avery at that time in Chicago and loved his production. When he sent me the beat for Rum Chata I was already knee-deep in drinking this drink, lol. So when I heard it something just clicked and said, "Errbody Rum Chata! LOL!!" I hired Exclusive to do the music video. He's a pretty popular videographer in Chicago. His creative eye is what drew me into working with him.
As a hip-hop artist, one has to always stay sharp and pay attention to trends and new directions. Do you find this to be true in your own art?
Definitely, I think giving a new refreshing sound is part of its evolution. We sound nothing like we sounded in the '80s, '90s, or even early 2000's. I believe that's what makes Hip-Hop so intriguing. Unlike other genres who can be monotonous, Hip Hop is what it is whenever it wants. This is something I apply personally honestly. I'll make whatever kind of track in whatever genre and release it, lol.
Who is your number one fan/supporter?
My number one fan is my sister's best friend, Nana. OMG, I just love her.
What is the most exciting collab you've had so far? Who would you like to collaborate with in the future?
T.L Williams was definitely my most exciting feature. His single at the time "getting more money than you" was going crazy and he invited me on his album for a single called "Shades." Our performance was crazy, the show was great, and the song is fire. So yea definitely T.L. Shouts to you big bro! In the future, I'd love to work with Snoh Alegra, Alex Isley, Masego, Drake, Future, Travis Scott, Jhene Aiko. I mean the list goes on and on. There's a lot of talented artists I'm certain I could make hits with.
With several singles under your belt, Resse P is becoming a house name in the scene. What would be your most ambitious goal to accomplish in the near future?
My most ambitious goal in the near future would be to perform at the BET Awards in June.
Where do you get your inspiration on days when you're not particularly motivated?
When I'm not really motivated or in the mood to make music or focus on my career I dive into other hobbies. I love to swim, go out to eat, travel, read, and exercise. You know the basics.
What do you think is the most important quality of a hip-hop artist?
Character.