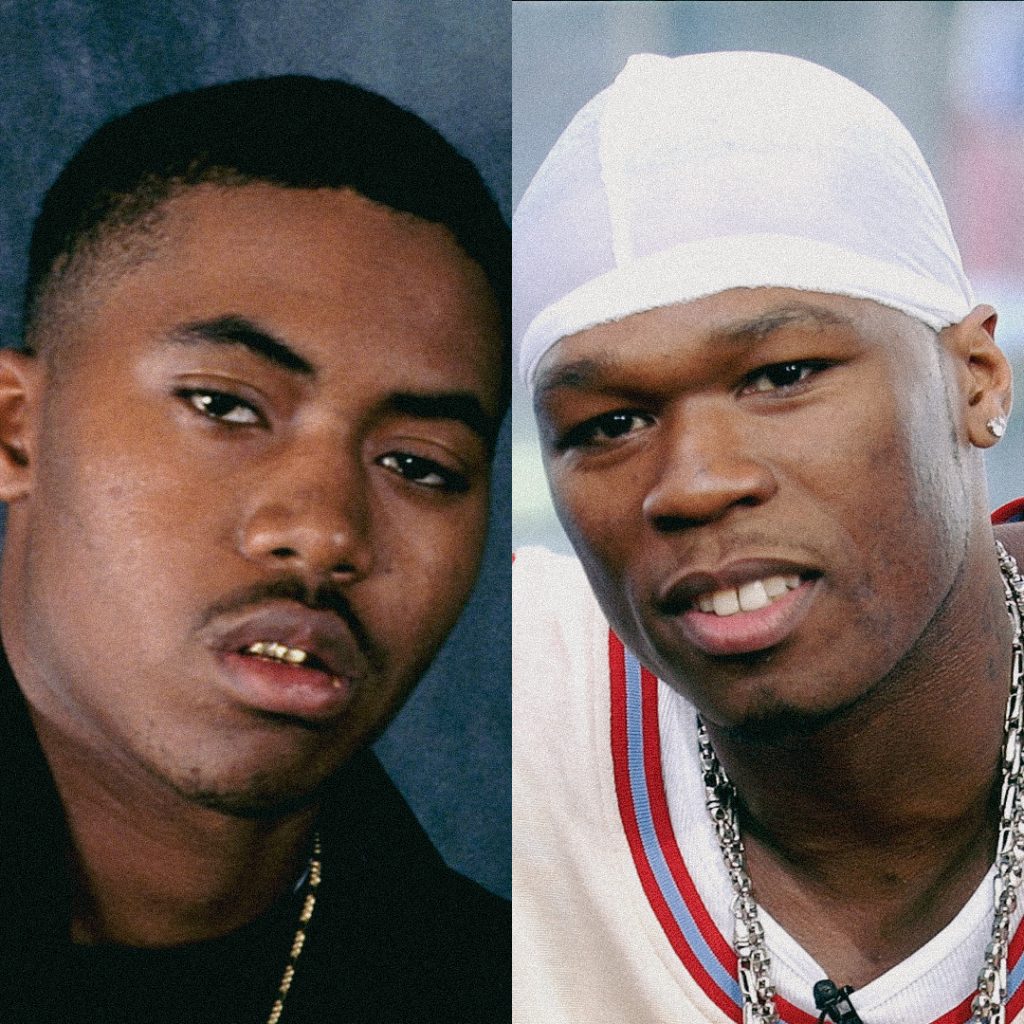 Rappers Nas and 50 Cent are reportedly collaborating on Nas' upcoming album, "King's Disease IV," marking the end of their longstanding feud. Speaking to Billboard for a cover story marking the 20th anniversary of his debut album, "Get Rich or Die Tryin'," 50 Cent confirmed that he is set to feature on Nas' forthcoming project. The two MCs' relationship first soured in the early 2000s, after 50 Cent made derogatory remarks about Nas and his then-wife Kelis on the track "Piggy Bank" in 2005. In response, Nas released a song titled "Don't Body Ya Self". The feud was resolved in 2014 when the pair performed together at Hot 97's Summer Jam.
Billboard's interview with 50 Cent covered other topics, including his recording process with Dr. Dre and how it has evolved since "Get Rich or Die Tryin'." The rapper stated that when working with Dre, he would write to the first song that came on, regardless of whether the beat was finished or not. He used the song to "break the ice," with Dre coming in later to alter the drums and other aspects of the track until they had something that worked.
Twenty years after his explosive debut, @50cent has done more than just 'get rich' — he's reinvented himself. 💯

Read his Billboard digital exclusive cover story: https://t.co/FPQnnwsdB2 pic.twitter.com/N3teSYgMds

— billboard (@billboard) February 9, 2023
In contrast to his earlier method, 50 Cent now approaches recording from a different perspective, considering "the angles of it happening from different perspectives instead of putting myself in the middle of actually doing something to someone." He added that he writes "a lot of the material like that, but there are a million other approaches to use."
Billboard's list of the top 50 greatest rappers of all time was also recently released, with Jay-Z topping the rankings. The editorial teams at both Billboard and Vibe were responsible for creating the list, taking into account factors such as an artist's body of work, cultural impact and influence on the evolution of the hip-hop genre, as well as longevity, lyrics and flow. The list included only North American rappers and excluded reggaeton and dancehall MCs.
The release of the rankings coincided with the 50th anniversary of hip-hop, with the first official hip-hop party held on August 11, 1973, in the Bronx. Since then, the genre has become a global phenomenon, with countless artists pushing its boundaries and creating new sub-genres. Nas and 50 Cent, as well as Jay-Z, are all considered to be influential figures in the hip-hop world, having each made significant contributions to the genre's development over the years.
In the case of Nas and 50 Cent, their collaboration is a significant step forward, marking a reconciliation between two artists who were previously at odds. Fans will be eager to hear what the two MCs have come up with on "King's Disease IV," which is expected to be released soon.