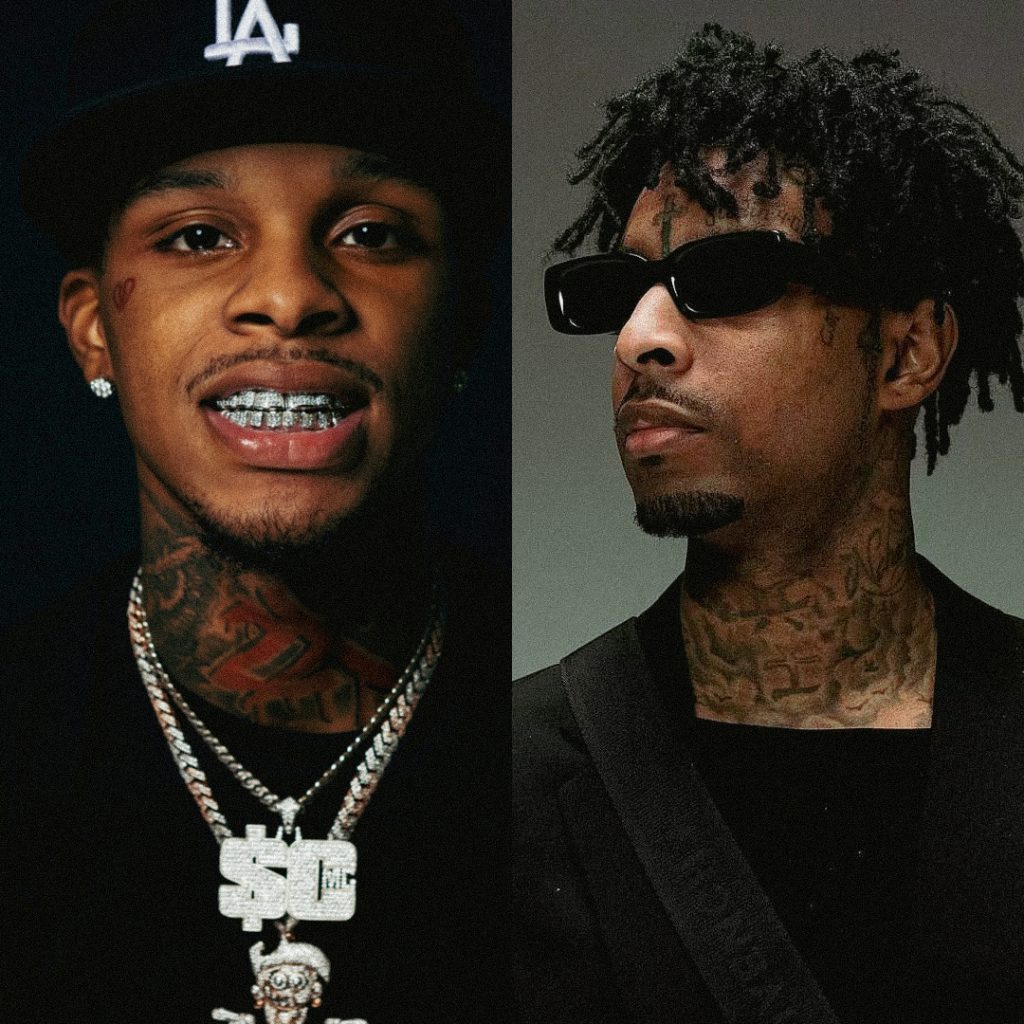 When it comes to delivering unforgettable features, one artist consistently stands out from the crowd – 21 Savage. With an extensive roster of collaborations including renowned names like Drake, Post Malone, Nas, Travis Scott, and J. Cole, the Atlanta-based rapper has solidified his position in the industry. Now, fans eagerly anticipate a forthcoming joint project between 21 Savage and rising star Toosii. Recently, a tantalizing snippet of their unreleased collaboration surfaced, leaving listeners hungry for more. In this article, we explore the potential of this highly-anticipated partnership and its impact on the hip-hop landscape.
21 Savage goes "Muhammad Ali" on unreleased Toosii collaboration https://t.co/52WCdDsvQr pic.twitter.com/f69ekf3Oij

— HipHopDX (@HipHopDX) May 27, 2023
Toosii and 21 Savage: A Lethal Combination

Toosii, a gifted artist known for his captivating storytelling and versatile style, has been making waves in the music scene. His ability to craft emotionally charged narratives has garnered significant attention, positioning him as one to watch. Pairing his skills with 21 Savage's undeniable presence and lyrical prowess promises an explosive track that demands recognition.
The Teaser That Leaves Fans Yearning

The snippet shared on Toosii's Instagram Story gave fans a tantalizing taste of what to expect. 21 Savage's commanding flow begins with the line, "I'm Mr. Get Out on Feet, 21 / He tried to run through the cut — boy, where you goin'?" This opening line immediately captures attention, showcasing 21 Savage's signature style. The intensity only escalates as he continues, "Get hawked down the street, 21 / Glock with a switch, hit a n*gga with a left hook, right hook, Muhammad Ali." Drawing a parallel to the legendary boxer Muhammad Ali, 21 Savage emphasizes his strength and skill as an artist.
Toosii's Magnetic Appeal

Toosii, on the other hand, delivers his verses with a distinctive flair. With lines like, "On God, if you ain't signing no major, you better off not even askin' my fee," he asserts his value and influence in the industry. Comparing someone to Garfield the cat, he quips, "He a pussy cat like Garfield, stick make a n*gga do a cartwheel," showcasing his clever wordplay and evocative imagery.
While Toosii's plans to release the collaboration officially remain uncertain, the potential impact of such a track cannot be understated. Building on the success of his recent remix of "Favorite Song" featuring Future, this joint effort with 21 Savage would undoubtedly further elevate Toosii's trajectory. The chemistry between the two artists is palpable, offering a refreshing and captivating sound that appeals to a wide audience.
Toosii's Musical Journey

Beyond the anticipated collaboration, Toosii has been consistently making his mark in the industry. In 2023, he treated fans to the mesmerizing track "Magic Potion," following the success of his previous project, "Boys Don't Cry." Expanding on this success, he released the "Boys Don't Cry: Men Do" edition, featuring five new songs. Each release has played a vital role in expanding Toosii's ever-growing fan base, solidifying his position as a multi-talented artist.