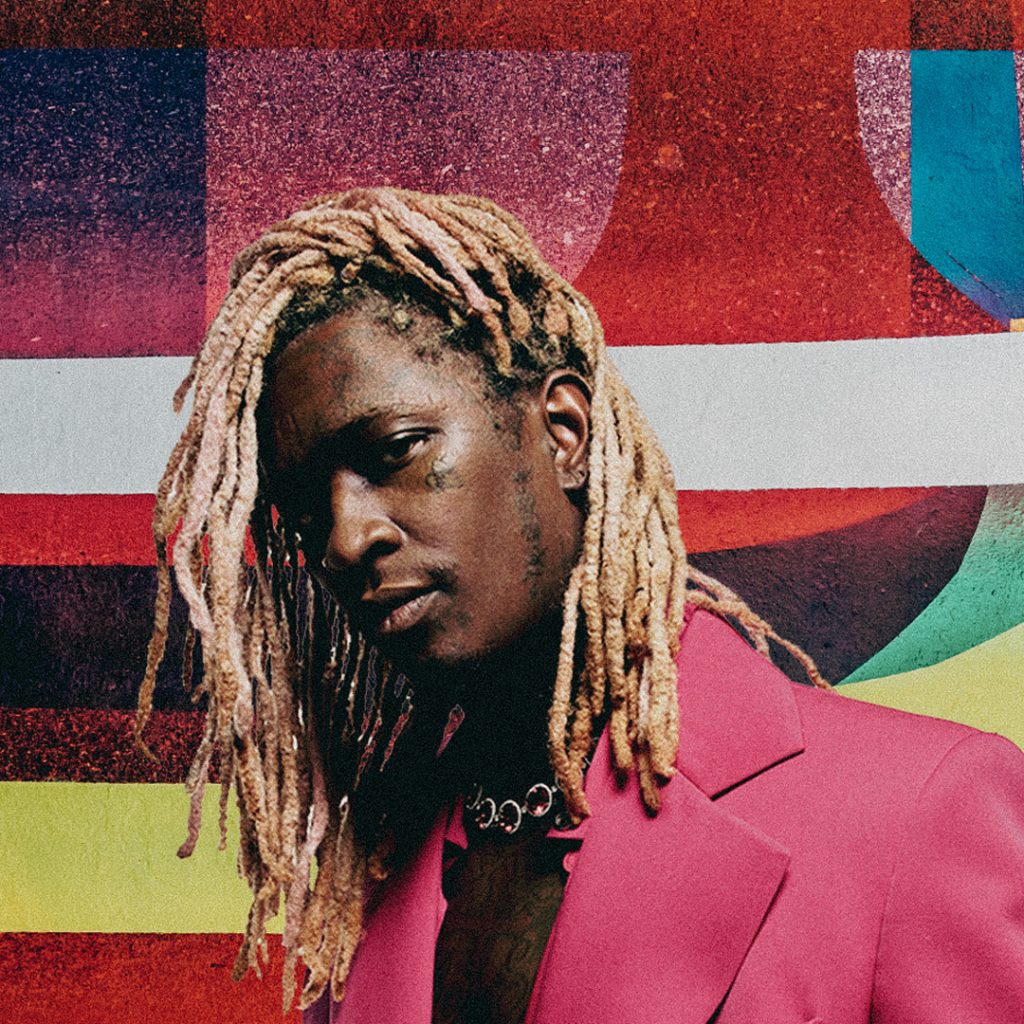 Business is business, and for Young Thug, not even a prison stint and an ongoing court trial can hinder his hustle. The rapper, whose real name is Jeffery Lamar Williams, recently released his first solo music since being indicted on racketeering and other charges as the leader of his label and collective YSL. Titled "Business Is Business," the album showcases Thugger's refusal to stay silent about his situation. The album cover alone speaks volumes, featuring a striking black-and-white image of the rapper defiantly looking back at the camera while other defendants in court face forward.
Under the executive production of Metro Boomin, "Business Is Business" boasts 15 tracks, each filled with Thugger's signature style and unique artistry. Collaborating with some of the biggest names in the industry, the album features guest appearances from Drake, Future, 21 Savage, Travis Scott, Yak Gotti, Lil Uzi Vert, BSlime, Lil Gotit, and Nate Ruess. The inclusion of these renowned artists further amplifies the anticipation and excitement surrounding the release.
Young Thug first teased the project a week ago, igniting a buzz among his dedicated fan base. He posted a QR code on his social media platforms, which led eager fans to a countdown clock, building suspense for the album drop. The timing was significant as it coincided with his protégé Gunna's release of his own album, "Gift & a Curse." Gunna, who had recently left prison after making an Alford plea on his racketeering charge, contributed to the heightened anticipation surrounding both projects.
However, Young Thug's journey has not been without its challenges. He has been in prison for over a year, since the time of his indictment, awaiting trial. His legal team has made multiple attempts to secure bail, citing concerns about his well-being and health in the prison environment. Unfortunately, all their requests have been denied, leaving Thugger behind bars. The trial's start date remains uncertain, as jury selection is still ongoing, prolonging the anticipation for a resolution to his legal situation.
FAQs (Frequently Asked Questions)
Q: How long has Young Thug been in prison?
A: Young Thug, whose real name is Jeffery Williams, has been in prison for over a year since his indictment.
Q: Who are some of the featured artists on "Business Is Business"?
A: The album "Business Is Business" features collaborations with Drake, Future, 21 Savage, Travis Scott, Yak Gotti, Lil Uzi Vert, BSlime, Lil Gotit, and Nate Ruess.
Q: What was the significance of the album cover for "Business Is Business"?
A: The album cover depicted Young Thug defiantly looking at the camera while his co-defendants faced forward in court, symbolizing his refusal to remain silent about his legal situation.
Young Thug, born Jeffery Lamar Williams on August 16, 1991, is an American rapper, singer, and songwriter hailing from Atlanta, Georgia. Known for his distinctive vocal style and fashion-forward image, Young Thug has established himself as a prominent figure in the hip-hop industry. With a career spanning over a decade, he has released numerous successful projects, including mixtapes, albums, and collaborative works. Young Thug has garnered critical acclaim for his innovative approach to rap and has collaborated with a wide range of artists across different genres. Despite his legal challenges, he continues to captivate audiences with his music, solidifying his status as a leading voice in contemporary hip-hop.