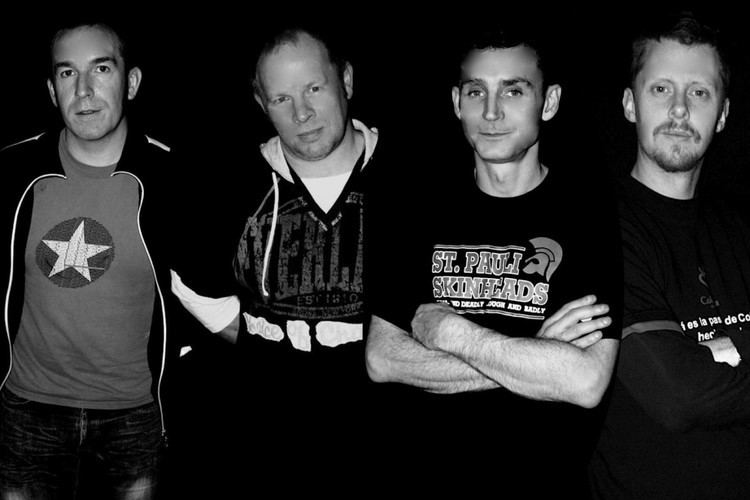 #1 Hotknives
The four piece band delivers razor-sharp edged hardcore songs unlike naything you've heard before. They also mix in punk and metalcore, making the music more original. The Hamilton band has released numerous singles like "Are You Afraid Of The Dark?" "Splinter," "I Want Your Bones", and others. Their EPs "I" and "II" have thousands of streams.
Hotknives originated as an online project and released various recordings by vocalist Zakk Abrams before slowly becoming dormant. Now, since 2018, they have resurfaced as a full group, releasing single after single. Hotknives showcase powerful emotion and catchy melodies through crushing guitars, pounding drums, and soaring meets shrieking vocals to deliver brutally honest lyrics.
Everything the band does comes across as natural, powerful, and fresh which is why they have numerous fans across the world.
This infectious rock band has the distinct sound of the 90's inspired garage-rock. The queer femme group knows how to make memorable music and enrich it with cool lyrics and catchy phrases to make you remember them. The group is said to be influenced by Veruca Salt, L7, Hole and Sleater-Kinney, The Pretty Reckless and Paramore.
Raw, feral, anthemic music for the underdogs – Strange Breed is the shift in alternative rock that you've been waiting for.
Band members Nicolle Bell-Dupas (Vocals/Guitar), Terra Chaplin (Lead Guitar), Megan Bell-Dupas (Drums) and Jess Dubois (Bass) have perfected the art of serving memorable rock hooks with a filthy side of riot-grrrl rage. Through layers of distortion and unapologetically feminist lyrics, Strange Breed is the musical equivalent of jumping on your bed screaming at the top of your lungs at the injustices of the world with your best friends.
#3 Hot Mondy
Outlaw country band Hot Mondy has everything it takes to become a superstar. Their music has immense originality and authenticity in the country/rock scene. "Desert Moonlight", "Pale Ember" and "Vampire" are their releases so far with hundreds of thousands of streams across platforms.
Hot Mondy members are five friends with the greatest passion of making amazing music – Matt Rhind, Travis Flint, Matt Brannon, Troy Arseneault, and Mat Budreski. Lush, rich songs full of emotion is Hot Mondy's staple, spiced up with Matt Rhind's stunning voice. Their singles are equally soulful, dynamic, unexpectedly wondrous and cinematic.
Hot Mondy makes real music without obsessing over trends. "If the history of music has taught us anything it's that artists who follow their passion, ignore everyone in the room and give wholeheartedly to what they believe in will endure." Their fans across the globe can testify that Hot Mondy's each new release is much anticipated and does not let the audience down, reinventing beauty, style and timelessness.
#4 Mundy's Bay
Out of this world, Mundy's Bay is an amazing band of four from Montreal with vocalist/keyboardist Esther Mulders, guitarists John Donnelly and Victor Beaudoin, bassist Will Love. Their music borders punk and hardcore but is very much reminiscent of the 80's atmospheric laid-back music to which one can easily dance to. Simple yet sophisticated, Mundy's Bay refuses to box itself, breaking boundaries and creating a compelling sound that is universal at its core.
#5 Botfly
Botfly are a post-hardcore band from Halifax, Nova Scotia. Originally formed in 2013, Botfly set out to pull from the energy of the noise rock scene of the 90's, while still adding a fresh contemporary spin to the style. The band released multiple EP's, while regionally touring, before refining their sound on their self-released debut LP in 2017. Since then, Botfly has spent their time touring North America playing basements, clubs, and festivals. Partnering with Pink Lemonade Records the band released the compilation album "Dark Days" in 2018 and the 2019 single "Truth In Numbers".
Their latest release is "Reflect//Reject", a beautifully emotional single with the best of the post-hardcore scene.
#6 Aquakultre
Aquakultre is a group from Halifax focusing their creative energy on r&b and soul music. With the most unexpected arrangements and songs filled with beauty, Aquakultre has thousands upon thousands of streams on Spotify. Their albums include Legacy and Bleeding Gums Murphy of 2020, out of which Legacy was a nominee of that year's Polaris Music Prize. Aquakultre's numerous singles also include superhits like "Hitwoman" and "Same Damn Time" with its incredible remix below. This group makes some amazing atmospheric, trance-like music that somehow fits into today's crazy times like a glove.
Hailing from Toronto, this is a wondrous instrumental group delivering most peculiar musical pieces. The group is led by Maximilian Turnbull with guitarist Chris Bezant, saxophonist Karen Ng, flautist Alia O'Brien, bassist Giosuè Rosati, percussionist Ed Squires and drummer Jay Anderson, and guest vocalists on the occasion. Much of their work is influenced by jazz, progressive and psychedelic rock as well as funk music. Badge Époque Ensemble came together and released their debut self-titled album in 2019 with two subsequent albums Self Help and Future, Past & Present. Their music is exceedingly modern, sophisticated and exciting.
#8 Blessed
This quartet is dangerously modern and timeless at the same time. Operating within the framework of alternative pop, rock, and post-punk, the four members have been making some amazing music ever since they came together in 2019. That year they released their first and only album to date called Salt. It has had huge success with tens of thousands of streams and tons of attention from genre enthusiasts and the press. The group has been touring North America for the past three years, coming up with new, exciting and meaningful songs like "Structure" and their latest EP iii.
#9 Bleu Nuit
Alternative/Indie band Blue Nuit has been very popular throughout Canada. Some of their best songs are "Concentration" off their 2019 album Le jardin des mémoires as well as "Mensonges" and "Météores". Their artful music borders alt-rock and post-punk genres although the band clearly knows how to transcend any genre and come up with impressive music for all.
"Trou Noir" linked below has the most fascinating music video, depicting a whole story in black and white comic-like visuals.
#10 Ducks Ltd.
Propelled by a fondness for boundless jangle-pop, Toronto's Ducks Ltd. is a duo that operates with the dynamism of a full band: Tom McGreevy (vocals, guitar, bass, keyboards) and Evan Lewis (guitar, bass, drum programming) both have a resolute love of underrated '80s indie pop. The pair started writing and recording together, taking the time to discover their musical identity. Their critically acclaimed debut EP, Get Bleak, reveals the key to Ducks Ltd.'s sound: simple charms, just like the music that inspired it, and a project best served when it's just the two of them trusting the intensity of their creative relationship. Ducks Ltd. have received glowing praise in publications like Pitchfork, The A.V. Club and NME.