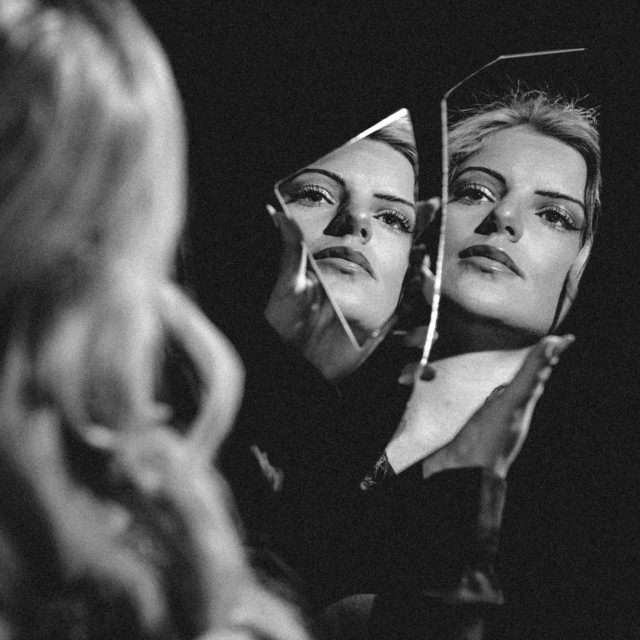 Described as intense, touching, and sonically impressive, Mafalda Almeyda's debut EP titled Crowded Room has been at the center of the music world's attention lately. We have interviewed the rising pop singer-songwriter about her new release,
What genre and subgenre would best define your unique style?
The genre that most defines my music is pop. I can consider my songs to have Latin pop and dark pop influences, which will appear in future projects.
Please share with us some of the interesting details behind the recording of your beautiful new EP Crowded Room.
Actually, I have many funny stories that happened during the recording of the EP, many mishaps 😂
When recording the single "crowded room", for example, it started raining a lot and we had to wait a few hours to record the song because the microphone was capturing everything ahahah I also remember getting sick the day before the recording of "i'm used to u", we ended up staying in the studio for 12 hours straight to get everything perfect.
I have one that didn't occur exactly during the recording but while I was preparing this song at home, to send to the producer. My dog invaded the room and the sound of her paws running all over the floor became part of my recording. We ended up adding a rainstick on verse 2 of " i,m used to u", to replicate the same sound as my dog's run.
With that being said, my EP almost stayed in the drawer ahahah
Which song of the EP is the most personal one and why? Which one is your favorite?
I feel that all the songs on the EP are very personal to me, they are all based on experiences I have lived and that affected me in many ways. Anyway, I can highlight the song "crowded room" as the most personal, because it turned out to be based on very specific situations from my past, while the other songs were a compendium of situations, having various relationships in one story. Even in the creation of a "crowded room" I felt it was something very intimate. Regarding my favorite song, it is really hard for me to choose just one because they all are my creations, and when you do that you gain a certain affection for all of them. The only thing I can say about it is that "back to the night we met" is a beautiful song, one that I really love, as much as "crowded room".
Please tell us more about your beginnings with music, what sparked your desire to become an artist?
Since my childhood, I was used to listening to Celine Dion, Whitney Houston, Mariah Carey, Aretha Franklin… That made me fascinated by the world of music and arts.
But I think what really sparked my desire to be an artist was seeing it so present on tv. Like any child, I was watching Hannah Montana, represented by Miley Cyrus giving her epic concerts, interacting with the audience in a very unique way, and I was just fascinated by the energy she was putting into her songs and by the stories behind them. All this made me start my singing lessons at a very young age and that was when I decided that this was the right career for me.
What is the main difference in terms of creative process and lessons learned between the time of your official launch with the debut single "show me what u got" and where you stand today with the release of your debut EP?
– Since the release of "show me what u got" everything has been a challenge, everything has been new to me, and essentially it has been important to learn from the mistakes I've made. Nowadays I know what I want and I know how to do it. I learned how I like to work in the studio and this is very important for the recording process, for example. I also embraced several songwriting methods, considering that the one I used at first didn't allow me to create all the songs I've written until now. I wrote my first music video on my own, and most importantly, I was able to gather a great team for this project, and I hope they can still be part of the next ones because they were a great pillar for this EP.
When you are not writing music or recording, do you have other passions that you would like to share with us?
I love to travel whenever I get the chance, so you're likely to find me on a plane when I'm not writing new songs ahahah
Who are your all-time top 3 favorite artists and why?
Ariana Grande is definitely in my top 3, her vocal technique is very good and I also really like all the albums she has released, of course. I've seen her live and loved the performance and the show created by her and by her entire team.
Dua Lipa has also had an admirable journey that I have been following in the last few years. She is a very complete artist that I would like to include in this list.
In my top 3, I couldn't have left out Lady Gaga, an incredible voice, and a vocal technique that incorporates pop technique and lyrical technique, something I've always tried to implement in my training. She is a great songwriter, composer, and performer.
What's next for Mafalda Almeyda?
At the moment I'm working on a summer project, with Latin pop influences. This project will be a kind of a spin-off from this EP, telling the story of a freer Mafalda, that is almost recovered from all the negative feelings and negative energies brought by previous relationships. The songs will have more energy and dynamics and will show a more spontaneous artist.
Without an estimated release date, I have another project in the creation process that will be more into a dark pop vibe, without getting too far away from what I have been showing so far.
Find Mafalda Almeyda: Instagram – Spotify – Twitter – TikTok