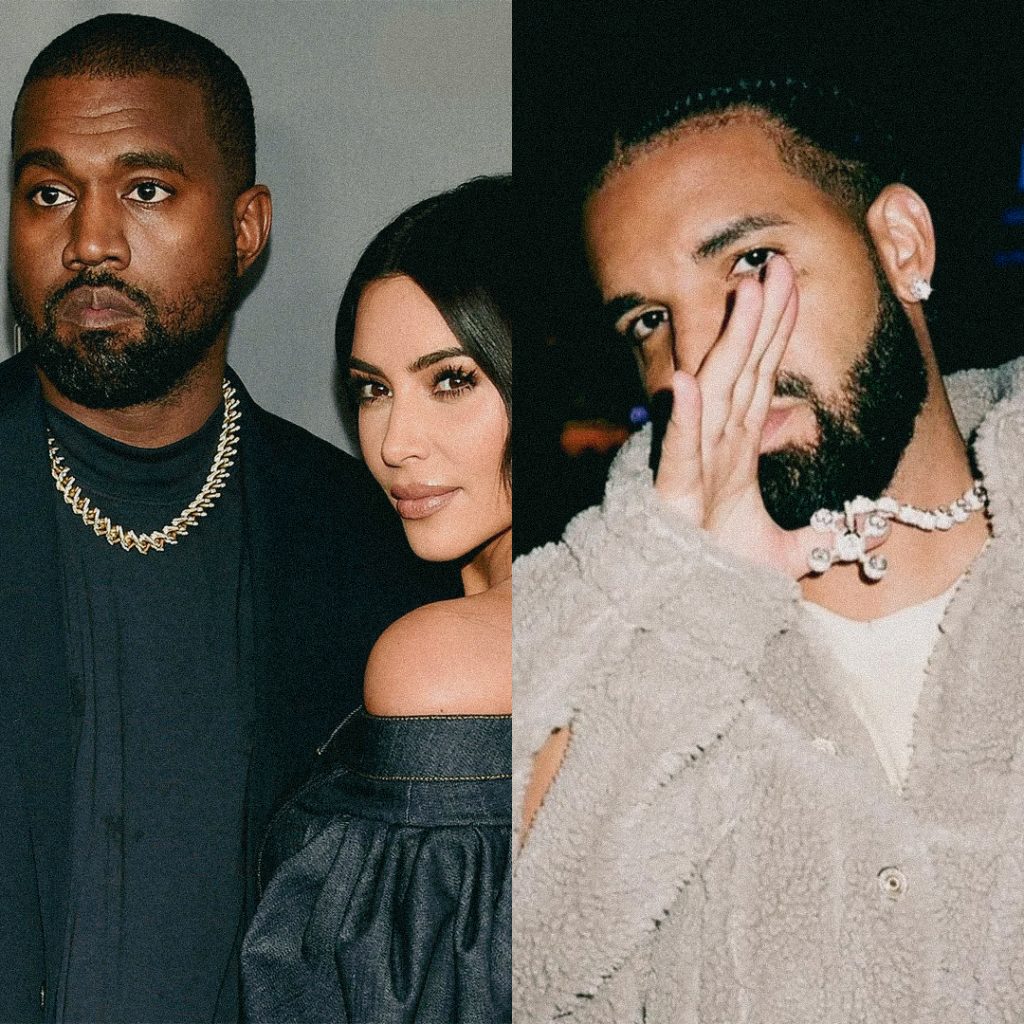 Drake has previewed a new song titled "Rescue Me" that includes an audio sample of Kim Kardashian discussing her divorce from Kanye West during the series finale of E!'s "Keeping Up With the Kardashians" in 2021. The Canadian rapper previewed the song on Sound 42's "The Fry Yiy Show" on SiriusXM on Friday. While Drake has not announced when the song will be officially released, the beat has been confirmed to be produced by BNYX, who tweeted about his previous experiences with adding Drake acapellas to his beats.
This is not the first time that the subject of Kim Kardashian has arisen in the feud between Drake and Kanye West. Shortly after Kardashian filed for divorce from West in 2021, The Sun reported that Drake had been messaging Kardashian. Later that year, Drake released his hit song "Wants and Needs," in which he dropped a possible hint about a secret fling with Kardashian. "Yeah, I probably should go link with Yeezy, I need me some Jesus. But as soon as I started confessin' my sins, he wouldn't believe us," Drake rapped on the track.
In December 2022, after West accused Kardashian of having an affair with Phoenix Suns basketball player Chris Paul, Drake took to social media to post an image of himself alongside Paul. The feud between Drake and West, which had been ongoing for years, appeared to come to an end in 2021 when they were spotted partying together in a nightclub.
While the use of Kardashian's audio in "Rescue Me" may stir up controversy, it is not uncommon for artists to use samples in their music. In fact, sampling has been a common practice in hip-hop since its inception in the 1970s. Sampling allows artists to pay homage to their musical predecessors, create new sounds and styles, and add layers of meaning to their lyrics.
However, there have been instances where the use of samples has led to legal battles. In 2015, a jury found that Robin Thicke and Pharrell Williams had infringed on the copyright of Marvin Gaye's "Got to Give It Up" with their hit song "Blurred Lines." The ruling sparked a debate about the legal boundaries of sampling and raised questions about whether or not artists should be able to freely use samples in their music.
In the case of "Rescue Me," it remains to be seen whether or not Kardashian or West will take legal action against Drake for using the audio clip. Regardless, the preview of the song has generated buzz among fans, who are eagerly anticipating its official release.